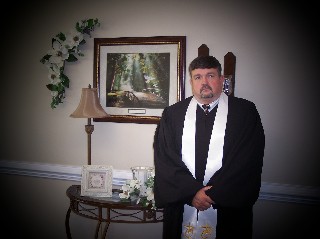 Greetings Friends! It is an honor to have you as a guest to the Serenity Baptist Church website. There are so many things happening here at Serenity. God is really moving in the hearts and lives of the people and beginning a fresh, new work in them. I am blessed to have the opportunity to serve as Senior Pastor and to experience God's work up close and personal.
I have been a part of the Serenity family since 1995 and I continue to enjoy serving along side my wonderful wife, Glenda. Our four children(Jamie, Amy, Nicholas, and Veronica) have all called Serenity home at one time; but Jamie and Amy have families of their own and attend different churches. Nicholas and Veronica still call Serenity home. It is my desire to see all people worshiping Christ together in Spirit and in Truth; with no regards to race, ethnicity, gender, social status, or denomination. It tells us in Hebrews
"Think of ways to encourage one another to outburst of love and good deeds and let us not neglect our meeting together as some people do, but encourage and warn each other, especially now that the day of His coming back again is drawing near."
Hebrews 10:24-25 (NLT)
If you are in search of a church home or if you would like to visit for some encouragement and fellowship, please come visit us! We would love to get to know you!
Serving together in Christ"s Sure Victory,
Ain't God Good.....All the time!!!!!